Thornleigh Thunder Under 16's are raising funds for their Fiji tour where they will play 3 matches against local sides and do work in a village to improve facilities in early October 2017. This has been an annual event for the U16 side over the past 3 years and it has been a great experience for the players involved.
The team is running weekly BBQ's at Ruddock Park, doing a bottle donation drive as well as planning a Trivia Night as the main fundraiser on the 22 July ( see the flyer and details below).
We are looking for donations of goods or services as raffle prizes or auction items for the Trivia Night.
Do you own a holiday house, yacht/cruiser where we could auction a weekend getaway or water event or are able to donate retail goods or services?
All donations are greatly appreciated. Please contact Paul Sweatman  psweatma@bigpond.net.au, Craig Millard craig.millard@transport.nsw.gov.au or Mandy Sinclair sinclairclan3@gmail.com. for details.
Click for Trivia Night Flyer, details are also below: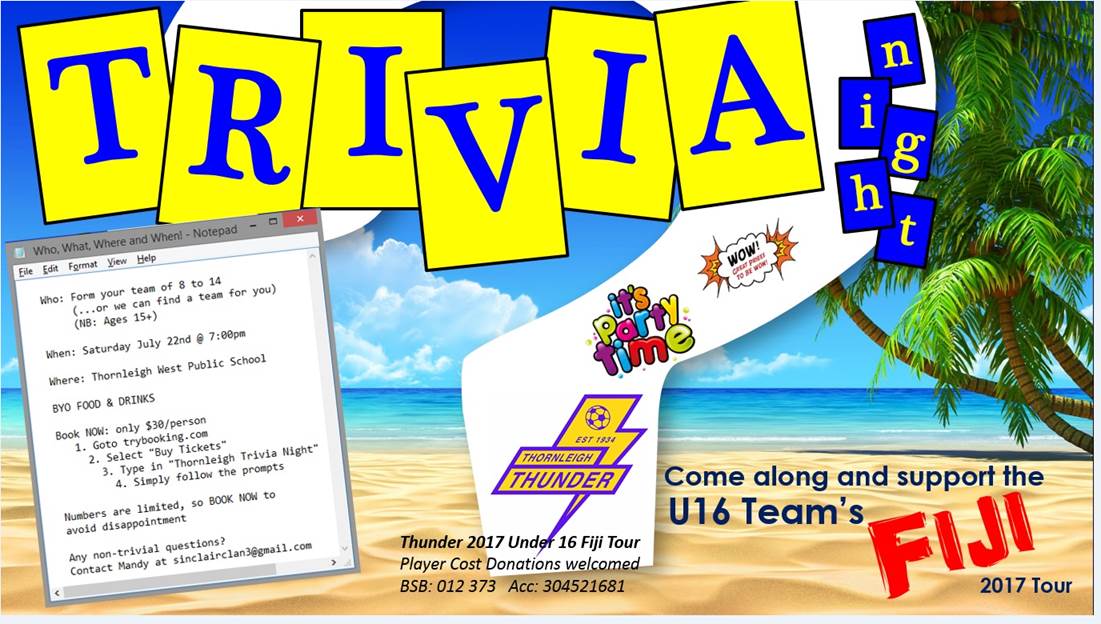 TRIVIA NIGHT 2017
Who: Form your of 8 to 14
(…or we can find a team for you)
(NB: Ages 15+)
When: Saturday July 22nd @ 7:00pm
Where: Thornleigh West Public School
BYO FOOD & DRINKS
Book NOW: only $30/person
1. Goto trybooking.com
2. Select "Buy Tickets"
3. Type in "Thornleigh Trivia Night"
4. Simply follow the prompts
Numbers are limited, so BOOK NOW to
avoid disappointment
Any non-trivial questions?
Contact Mandy at sinclairclan3@gmail.com